Want to know about project videos.
Projects videos are not in the list of videos.
@Satish_123
Hello Satish,
it will be added soon.anything that is mentioned in syllabus will be taught so dont worry
hi, most of the Projects that are mentioned on the CB website are already in the course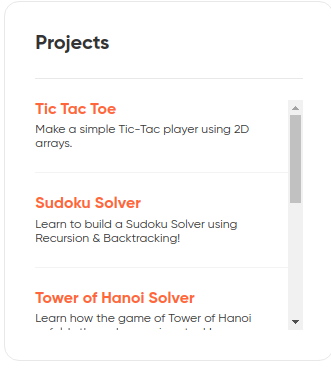 Like sudoku solver
rate maze
Tower of hanoi
Google Maps Path Finder
Splitwise Cash Flow
I hope I've cleared your doubt. I ask you to please rate your experience here
Your feedback is very important. It helps us improve our platform and hence provide you
the learning experience you deserve.
On the off chance, you still have some questions or not find the answers satisfactory, you may reopen
the doubt.
Unable to get projects i.e. Google Maps Path Finder and Splitwise Cash Flow.
Please specify where these are located.
Salesforce Certified Service cloud consultant Exam is a great way to demonstrate your knowledge and skills in the Salesforce Service Cloud platform. This Service-Cloud-Consultant Exam is a comprehensive certification that will help you demonstrate your expertise in the field and gain recognition for your skills. It is a great way to increase your career opportunities in the Salesforce world.